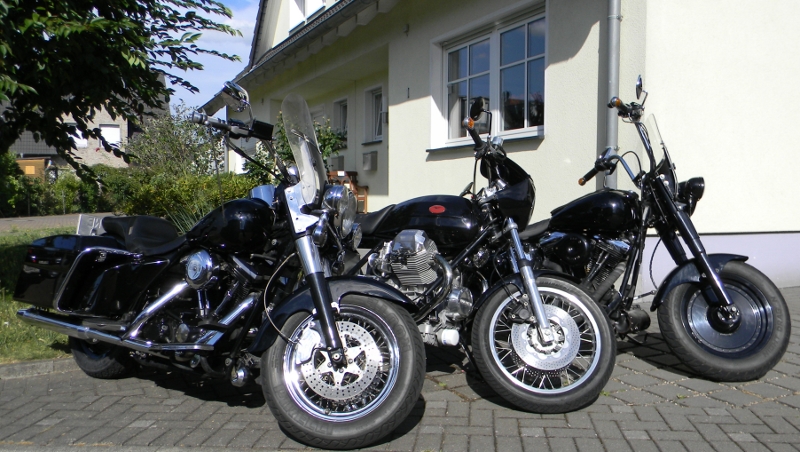 '92 HD ElectraGlide Sport - '81 Moto Guzzi Le Mans III - '92 HD Heritage Softail
(2013-08-03)
---
These things can happen when you go down into the garage to start a simple project, like replacing the inner Camshaft bearing of your EVO Bigtwin...

---
... and that's what she looks like now :

---
Some long forgotten pictures I've recently found :

---
In November 2007, with 200.000km on the clock, my good'ol Softail was due for a major overhaul. The fancy paint job from the last rebuild had suffered quite a bit during the last years, I wanted a bigger tank, I'd found me a Fatboy front wheel on ebay, the old wiring was more'n just suspicious and somehow I felt that the bike wasn't sporting enough black :-) So I figured it's time for...

---
In spring 2011 a neighbour stopped by at my garage, like he often did when he saw me wrenching there. He told me that because of health reasons he had to give up most of his bikes. Among those bikes was a 1981 Moto Guzzi Le Mans III, the bike I'd desperately wanted back in the early 80's but couldn't afford as a student (instead, I bought a V35 and made it kinda look like a Le Mans ;-)
For a while I kept telling my neighbour that I neither have space nor time for another bike, but eventually he made me an offer that I couldn't refuse. So in July '11 I took the bike for a test ride, got hooked, bought it and rode it home.
The bike had been modified already, basically giving it the looks of a Le Mans I. That was just fine with me, but what I absolutely couldn't agree with was the color scheme: silver frame and blue sheet metal! Now, like my brother Ernst always said: there's only two colors for motorcycles:
black and, regrettably, not black! ;-) So here it goes ...

---